There's never been a more frustrating time to build a house, start a renovation, or begin any sort of home project. If you've had your heart set on creating the house of your dreams in the near future, design delays over the past year have been downright disheartening.
But why is there such chaos in the design industry right now? And how can we navigate long lead times to get closer to our dream spaces?
Interior designers have had to juggle increased demand due to a wave of people seeking home improvements post-quarantine with labor and material shortages that have affected supply and shipping on a global scale. It's made for project timelines that are constantly in flux.
If you're considering a new project, or are in the middle of one that feels never ending, read on to find out what we've learned over the past year and a half.
Why the Delays?
It's all a ripple effect.
By now you've surely heard of lumber shortages. There have also been foam shortages for upholstery, and fabric shortages due to mills having to reduce their workforce to comply with local Covid mandates. Factories around the world have limited operations because they cannot buy raw materials. Some manufacturers have even stopped taking orders.
This is a combination of a shift in demand and the pandemic upheaval that occurred when companies who had focused on efficiency did not have backstock.
Due to the basic law of supply and demand, all this means prices have skyrocketed. Which, in turn, has unfortunately resulted in some homeowners having to opt for different styles than the ones they originally wanted in order not to go over budget.
In other cases, some people have opted to pause their projects, hoping prices go down eventually.
Sometimes it's not the price that's the problem, but that vendors have indefinite delays. Things are not only taking longer to produce, but also longer to get from point A to point B. The spread of Covid-19 has disrupted everyone in the massive shipping chain, from port workers to truck drivers, and that's how we end up waiting for months to receive our packages.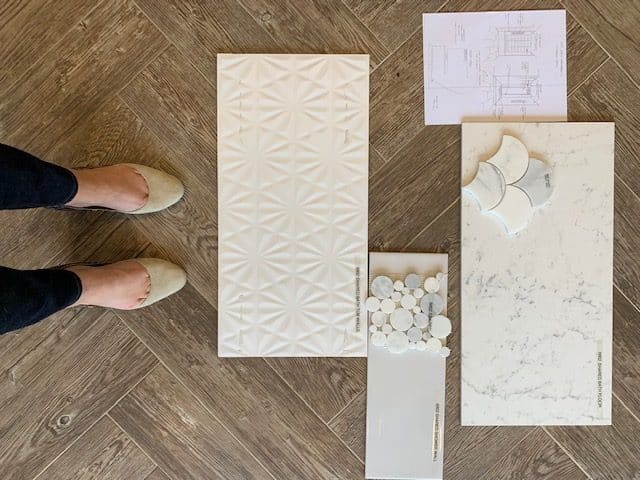 What We Can Do About It
As designers, we need to focus on constant communication during this time. It's important to be transparent and to manage expectations from the start.
One thing we've been doing at Olamar is setting conservative lead times. We've had to pad our schedule severely, focus more on planning, and take immediate action to account for unprecedentedly long lead times from vendors.
Another helpful workaround is shopping local, vintage, and custom. We buy products made in the USA whenever possible, but it's more important than ever now. Thankfully, shipping within the country has not been as negatively impacted.
We've continued working closely with vendors with whom we had strong relationships already. This past year and a half, we've also been more focused on finding local vendors we can work with directly who have fewer steps in their production processes. Plus, shopping local supports our community and grounds each project in its geographic place.
As clients, there are also things you can do to help make the renovation or construction process smoother. The most important thing is to be flexible. It's a good idea to pick backups for finishes and styles and to be prepared to go with another product in case your first choice is indefinitely delayed. It's a hard ask, but with a little latitude, we can usually find a similar product that fits your needs.
The most important thing you can do as a client is start your project as soon as possible! The situation is only getting more backed up by the day, and you could miss out on materials or the chance to work with a designer you like if you delay.
So don't wait! Schedule a consultation with us today.